QWERTY of AZERTY tasje?
Joao Sabino keybag

Dolce Gabbana en Louis Vuitton zijn zo passé. Joao Sabino is hot!
Sta je daar met je nieuwe Franse of Italiaanse designer tasje.... en de buurvrouw heeft net dezelfde.
Nee de Vuitton tasjes zijn echt uit. Joao Sabino is de nieuwe tassen maker. Zijn ontwerpen zijn gebaseerd op de toetsenborden die dagelijks afgeragd worden door bloggers, Facebookers en Hyvers. Joao maakt de Keybag.
Zoveel als de tasjes op gadget sites opduiken, zo zeldzaam zijn ze nog in het echt te bewonderen. Dus dames als je echt even hot wil zijn: ga dan voor de Keybag. Helaas is er geen Gadgetman Oranje versie....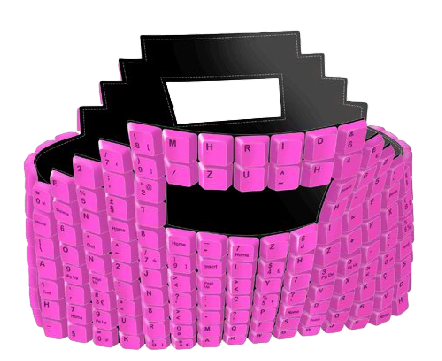 Joao verkoopt zijn tasjes zelf online voor rond de 150 Euro
Meer info:
Joao Sabino